During the pandemic, around 100 million people in Europe have switched to working from home, almost half of them for the first time. This change has been rapid, with employees quickly noticing the benefits of working remotely. These can include freedom to move around, more time for personal well-being, and increased productivity.
As we move away from pandemic-related restrictions, we have seen strong global demand for more flexible forms of work, particularly to retain an element of remote working. While some employees want to work from home permanently, most want what is being considered the best of both worlds: hybrid working. Only a minority of workers now want to return to the office full-time.
One group that may be particularly interested in hybrid working is young professionals. And for this group, time spent in the office could be especially valuable.
---
This article is part of Quarter Life, a series about issues affecting those of us in our 20s and 30s. From the challenges of starting a career and taking care of our mental health, to the excitement of starting a family, adopting a pet or simply making friends as adults. The articles in this series explore questions and provide answers as we navigate this turbulent time in life.
You may be interested:
Long social distancing: how habits of young adults have changed since COVID
Working in the Metaverse: What Virtual Office Life Could Look Like
Six Misunderstood Concepts About Workplace Diversity and Why They Matter
---
Young people and remote work
Surveys conducted during the pandemic indicated that Gen Z (those born after 1996) were more likely to say they struggled with work-life balance and post-work burnout than older generations.
There are several possible reasons for this. Young people may find it more difficult to set up a good organization of working from home, depending on their living conditions. Those at the start of their careers may have smaller professional networks, leading to greater isolation. Or they may simply have less experience managing boundaries between work and life outside of work, which may be made more difficult when there is no physical office to leave at the end of the term. daytime.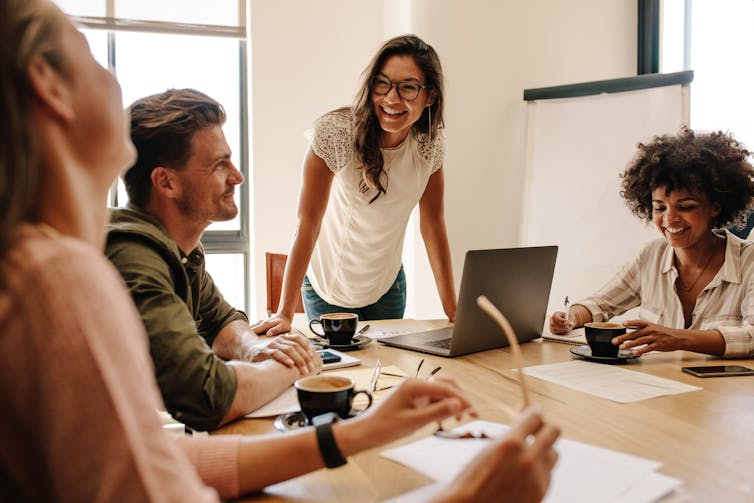 Despite this, new evidence suggests that younger workers want remote and flexible working rather than returning to the office full-time. Surveys vary, but generally indicate that around two-thirds of Gen Zers working in office jobs want a hybrid work model in the future – and they're willing to switch employers to find it.
According to a recent survey by management consulting firm McKinsey, employees aged 18 to 34 were 59% more likely to say they would leave their current position to move to a job with flexible working compared to older employees. aged between 55 and 64 years old.
Sometimes it's worth going to the office
Remote and hybrid working can bring many benefits. For employees, remote work offers the opportunity to reallocate costly and sometimes stressful commuting time to activities that promote work-life balance and health. Indeed, more than three-quarters of hybrid and remote workers report better work-life balance compared to when they worked in an office full-time.
Meanwhile, hybrid working offers employees autonomy and choice. They can combine time at home for focused, independent work with time in the office for collaboration and connection. A hybrid work model can be good for productivity, inclusion, and motivation.
However, the belief that work is best done in an office environment is pervasive – and young people in particular are believed to need to go to the office to network and learn professionally.
---
Read more: Hybrid working: how to make it a success


---
There might be some truth to the idea that young people at the start of their careers uniquely benefit from entering the office. Research conducted before the pandemic associated being out of sight while working remotely with also being out of mind. In particular, people who work exclusively from home are less likely to receive promotions and bonuses.
Conversely, being with colleagues in person has been associated with greater career progression. This is likely due in part to the fact that physical presence in the office seems to indicate commitment to the organization.
Can hybrid working reduce the risks of fully remote working and preserve the benefits associated with face-to-face interactions in the office? Only time will tell.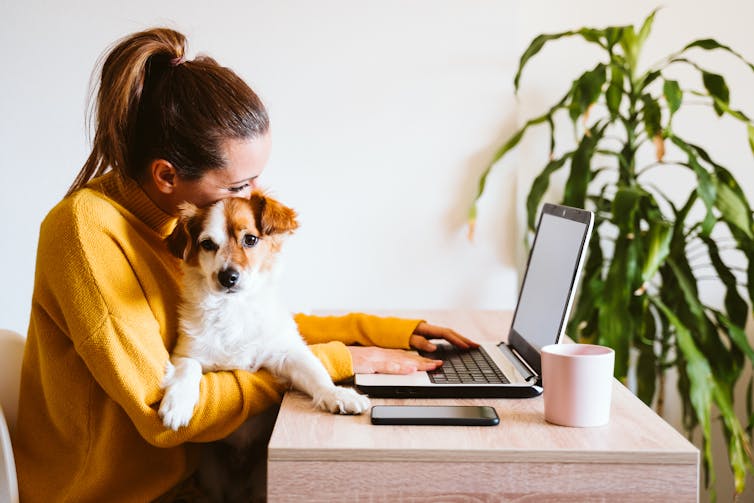 Find the right balance
Before 2020, remote work was still relatively rare. Large-scale hybrid work is a new concept.
But throughout the pandemic, the perception of working from home has improved globally. The latest UK data suggests almost a quarter of working adults are now hybrid. So, going forward, we need to better understand the impact of remote work on both organizations and the people who undertake it.
The challenge for young employees is to identify an effective work model that suits both them and their organization and supports their career goals. As tempting as it may be to ditch the commute as often as possible, younger employees may instead consider a more strategic approach.
---
Read more: What the amazing work-from-home experience has taught us about how we work


---
When in the office, they need to focus on personal visibility and on building and maintaining relationships with colleagues and managers. Networking and learning should be central to in-person work, and whenever possible, online meetings or freelance work should be reserved for remote work time.
Combine that with good wellness practices when working from home, especially when disconnecting from work, and the hybrid just might deliver on its promise of better work for everyone – young and old.